Local gardeners aim to build community and provide access to sustainable food options in Norman | Culture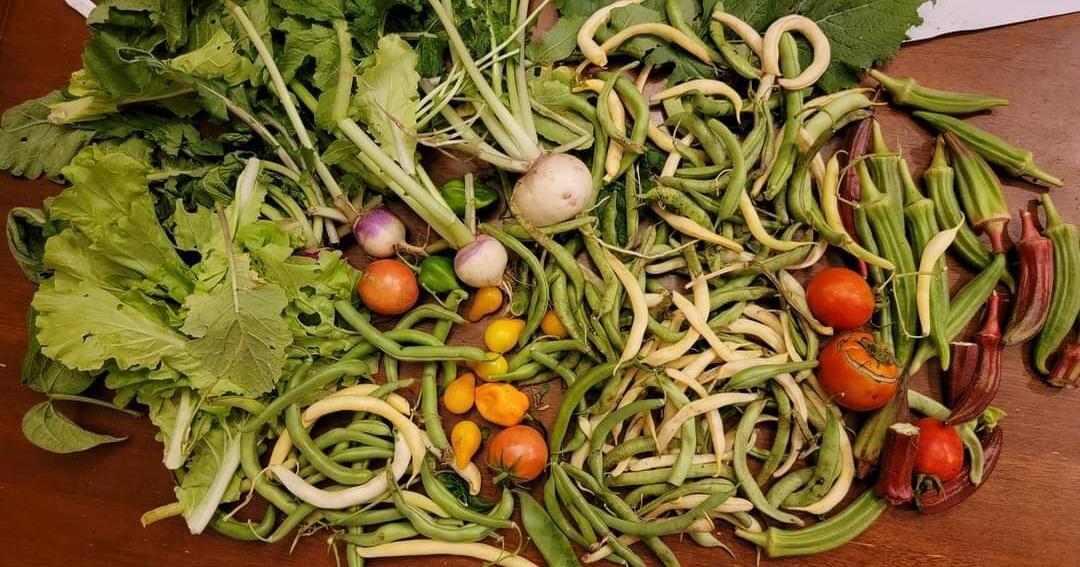 Norman is home to a vibrant gardening community, with veteran and newbie growers helping each other build a sustainable, quality food future.
A collection of these growers is a network of community gardens called Regenerate the Eartha group of community gardens and supply organizations committed to supporting each other in their gardening endeavours.
Jacki Saorsail is a longtime resident of Normandy with two decades of gardening under her belt. She began her gardening journey in the early 2000s when she started helping out with the garden owned by The Earth Cafe and Deli. She is currently a partner of Loveworks Leadership Inc., The Earth Cafe and Deli and Red Dirt Collective, and uses her two decades of knowledge to help educate growers and maintain community gardens.
The Earth Cafe and Deli was established in Norman in 1969. It offers an accessible menu for people who are gluten-free, vegetarian and vegan, and offers an online catalog of organic and sustainable products.
The cafe garden is located behind the restaurant. It supplies the deli with food and is a venue for community events and garden days. Saorsail currently manages the garden of the Earth Cafe and Deli. One of its goals is to encourage people to help out in the garden and gain followers for the project.
In his early years of gardening, seeing sustainability in action while working at the cafe inspired Saorsail's personal endeavors.
"I was buying all the organic food (at the cafe) and just wanted to try growing some myself," Saorsail said.
She works to use social media as a tool to get people interested in gardening.
"I just created a website and social media accounts, and I make videos. … We make little TikTok videos and publish them, publish blog posts and publish a newsletter," Saorsail said. "So there are lots of ways for people to track what's going on."
The Regenerate the Earth coalition includes six partner organizations. Red Dirt CollectiveThe Earth Cafe and Deli and Loveworks Leadership Inc. are all groups that have community gardens. Prairie Dirt Solutions and Eco-wood solutions have resources for gardeners. Regenerative dynamics helps organizations create a sustainable business model.
Regenerate the Earth has a blog that tracks the progress of each garden and an events calendar that gives times for community gardening days and events. It also contains how-to videos on composting, planting and fertilizing.
While social media is a great tool for engaging people, it can also lead to disconnection. In the age of the internet, a true sense of reality can be hard to come by. Working in the field with other community members can provide rare and much-needed connectivity, Saorsail said.
Saorsail said working with soil is a place of connection with humans as much as a place of connection with nature.
"I think a lot of people today are in the cloud, online, so often that they lose touch with reality," Saorsail said. "So you come here, not only are you in contact with physical reality, the reality of life and death, you're also in contact with other people. You can actually talk to people face to face.
Another of Saorsail's current projects is his work with the garden and youth at Loveworks Leadership, Inc.
Loveworks Leadership, Inc. is a program to guide young people in the Normandy community in their leadership skills. In 2020, despite the pandemic, Loveworks reached 1,067 students through virtual and in-person programs, helping them build better habits and boost their mental health. Since 2011, Loveworks has reached over 14,000 students.
Loveworks organizes a community garden as part of its after-school program. The program, aimed at students in grades four through eight, is maintained by hundreds of volunteers and mentors.
For Saorsail, the educational aspect of gardening, rather than the product, is what makes the effort worthwhile.
"Usually when you work with volunteers you have to consider that they are going to make a lot of mistakes, so I'm not really trying to maximize our agricultural production," Saorsail said. "If no one shows up, I might just throw some cover crop seeds and say that's fine because I'd rather spend my time educating than doing a bunch of gardening on my own."
Saorsail also lends its knowledge to the Red Dirt Collective garden, which is in its second growing season in plots around the corner from Colonial Commons Park. It is located near a playground and a football field and is open to everyone at any time to help cultivate the land and taste the products.
Another important result of a community garden is the landscape it creates, especially in a public space. Beautifying a space by creating a garden where there was once only grass can be a catalyst to excite the community to grow, Saorsail said.
"I think it's a matter of…optics," Saorsail said. "If you look around and there are gardens, it encourages people to garden more and makes life here much more enjoyable."
Red Dirt Collective is an organization created with the aim of helping the community. Their motto is "helping each other through our crisis". RDC focuses on the working class in Norman, working to provide mutual aid, organizational strategies and political solutions.
RDC has a variety of programs in addition to gardens aimed at the Normandy community.
The RDC hosts bi-monthly Caring Fairs, which recently took place at the Irving Recreation Center and are gaining a reputation in Norman as an enjoyable community event and reliable source of resources. Community members can scavenge personal resources such as food and clothing, and have the option to repair their bike and break light for free, and get a haircut for free.
RDC also sponsors three pantries in town, two of which are outdoors, to provide 24/7 access. Keeping those pantries full helped inspire their vision of gardening.
Ashley Creed and Bethany Sipe are both longtime Normandy residents and co-founders of RDC, along with their husbands. Creed is the mutual aid director for RDC and Sipe has recently been appointed director of the garden.
Gardening is a new venture for Creed and Sipe. Nevertheless, they created and set up the ground floor community garden while developing their skills and knowledge.
The inspiration to start a garden comes from a desire for fresh produce and community awareness. Colonial Commons Park is located in Ward 1, which is also home to the RDC Community Pantries. Creed said much of RDC's work centers on Ward 1, making it a prime location for the garden.
The desire to stock their pantry with fresh food is another driver of DRC gardening.
"With pantries, a lot of people were talking about wanting fresh produce and eating healthy is sometimes very expensive," Sipe said. "It seemed like a cool way to have products that people didn't have to go out and buy."
The garden is a place where people can meet and connect through mutual difficulties, with the ultimate goal of working together for a better future.
"One of our organizational goals is to connect people with each other who are going through the same struggles and issues," Creed said. "I think that's another way we hope the garden can be used, just connecting people during conversations. … How can we work together to solve this or fight against some kind of oppression?
The RDC garden may be in its second growing season, but the organization has a prolific vision for its future.
"We will have open plots for the community (so) they can have access to very good food. … They can just come to the park and say, you know, I need herbs for this meal or vegetables," Sipe said.
The current garden is made up of two plots and a handful of fruit trees.
Sipe said the goal is to create a "food forest" on the edge of the park. Creed said she hopes with the crowdfunding they can build a shed for tools and supplies soon.
"It's going to take a while, but we have the idea of ​​creating a big food forest in the back where the trees are so that it's sort of layered," Sipe said. "You'll have your biggest canopy with the biggest fruit trees and nut trees, and then you'll have smaller fruit trees and down to the bushes and vegetables growing at the bottom."
Red Dirt Collective meets all Sunday at 10 a.m. in Colonial Commons Park to work on their garden. They are always eager for people to come and volunteer and learn about the garden, Sipe said. Earth the garden hosts working days some evenings behind the cafe. Loveworks is always open to volunteers and also organizes gardening hours.