List of Essential Motocross Gear | Visor down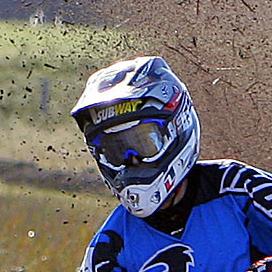 MOTOCROSS gear not only looks good, it protects you. Your kit bag will be jam-packed. But, motocross gear doesn't exactly come cheap, so you'll want to make sure you're buying the right gear.
So I know what you're thinking.
What equipment do I need for motocross and racing? Here's our list of essential kits, originally published by Noob Norm and the Beginner's guide to motocross.
1. Helmet
It goes without saying that if you don't have a helmet, you're not riding. Arguably, a helmet will be your most crucial protection when you crash (which you will, and if you don't, you're not the adrenaline junkie you thought you were) – so don't kid around not here.
Don't buy cheap headphones from brands whose quality has not been tested.
In the UK you will want a motocross helmet that has a ACU gold stamp.
In the United States, you will want a motocross helmet with the DOT, Snell M2005, Snell M2010, or ECE R22-05 marking.
No brand worth its salt will sell a helmet without a well-known safety marking.
If you are unfamiliar with the best motocross helmet brands, some of the top brands include: 6D, Answer, Arai, Bell, Fly Racing, Fox Racing, HJC, MSR, O'Neal, Shift, Shoei, Thor and Troy Lee Designs.
I would suggest sticking to these.
2. Boots
The best motocross boots on the market:
Absorbs impacts when landing from jumps
Protect you from roost (dirt and rocks being thrown by the rear wheel of other bikes)
Protect your feet from the sharp teeth of the foot pegs
Stop twisting or breaking your ankles
There is no doubt that the most well-known brand in the world for motocross boots is Alpinestars. I've had everything from their Tech 6 to Tech 8 and Tech 10 and they are all great boots.
However, the best motocross boots I ever owned were a pair of SIDI Crossfires; the hinged ankle provided plenty of flexibility, but they were lightweight and extremely strong.
A few brands to note (besides Alpinestars and SIDI) include: Answer, Axo, Fly Racing, Forma, Fox Racing, Gaerne, O'Neal, TCX and Thor.
3. Glasses
Without a decent set of motocross goggles, you will struggle to see. Whether it's wind, rain, dust, rocks or mud; you must protect your eyes.
There are 3 types of motocross goggles:
Detachable Motocross Goggles
A tab is located on each side of the glasses lens, allowing you to place approximately 21 pieces of clear film over the glasses. Then, as vision is impaired by dust or dirt, tear one at a time.
Be warned though, it's quite easy to rip the whole stack at once; pretty boring when you're 30 seconds into a 30 minute moto!
Roll-Off Motocross Goggles
Motocross roll-off goggles are geared towards riding in mud and rain. Being from the UK I have been lucky enough to use them – a lot!
There are two cartridges, one on each side of the glasses.
One holds new film and when you pull the cord on the side of the cartridge, it slides out the new film to replace the dirty film, which is then placed in the spare cartridge.
Unobstructed vision, with just two quick pulls of a lanyard.
Rip And Roll Motocross Goggles
Rip and Roll motocross goggles combine a roll-off and tear-off system. They are not cheap and they are quite hard to find.
In the UK there is a brand called Rip 'N Roll, while in the US there is the Forecast Advanced Mud Tear Off/Roll Off System which comes from the eyewear brand '100%'. It is a replacement lens that fits any 100% motocross goggle.
4. Combination of motocross equipment (pants, jersey and gloves)
Your motocross kit will come in a matching combo. A durable jersey and pant combo will provide some protection in a crash, and the best motocross gloves will keep you from getting horrible blisters.
I always take a few sets just in case there's a wet bike – there's nothing worse than putting on wet gear for your 2n/a or 3rd race of the day.
I've owned motocross gear combos from brands like Answer, Shift, Thor, Alpinestars, Fox Racing, MSR and Troy Lee Designs and have been more than happy with all of them.
5. Chest Protector
When reading product descriptions, it should be noted that a roost deflector is different from a chest protector.
A roost protector will protect you from rocks and dirt thrown up by other motocross bikes.
A chest protector will protect you from the roost, but will also protect you in the event of a collision. If safety is your thing, go for a chest protector (that's what I use). Most motocross riders prefer to opt for a roost protector – they are lighter and provide a snug fit, so offer a bit more flexibility.
I have a UFO Shockwave and an EVS chest protector. The EVS offers a much better fit.
6. Knee and elbow pads
Like the chest protector example, I know a lot of runners who choose not to wear elbow pads (I prefer to wear them).
The arm pump is a huge thing in motocross, and elbow pads definitely don't help. Straps can restrict blood flow.
On the front of the knee brace – I don't know of any runner who isn't wearing some type of knee brace or knee brace.
7. Equipment Bag
Now that you have all your gear, you'll need a cooler bag to carry it everywhere.
I use an OGIO motocross kit bag. Although a big name brand, I bought my bag for less than $80 and have had it for over 5 years.
For more Motorcycle Visordown content, click here.
Thanks to Noob Norm and The beginner's guide to motocross.