Hailey Loeffler – The Crested Butte News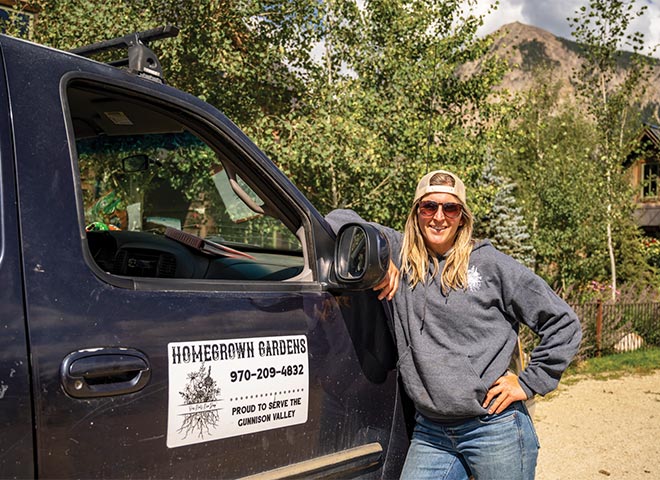 [  By Dawne Belloise  ]
BBorn in the southernmost hospital in the United States, Hailey Loeffler spent the first two and a half years of her life in Key West with her parents Holt Loeffler and Patti Kaech, as well as her brother Ian, until 'they bought a sailboat, sold their beach house and businesses, and embarked on a great cruising adventure. Even though her parents had never sailed in the open water, Hailey notes, "The great thing about sailing is that you meet other families and go on crossings together, so it was this cute little community." During their year at sea, the family sailed to the Bahamas, the Virgin Islands and Grenada, ending up in Venezuela where they sold the boat.
The family then flew to Florida, intending to go to Steamboat Springs where Hailey had an aunt and uncle who convinced them to come to Colorado in 1996. Florida to Colorado," recalls- her, but their plans changed in Buena Vista when a random stranger at the gas station mentioned that they should visit Crested Butte. The intrepid family made this detour via Cottonwood Pass. "We stopped at the Bakery Cafe and met some people who invited my parents for a bike ride and that sealed the deal. We never left and we never got to Steamboat," she laughs.
Hailey attended Stepping Stones Preschool and then Kindergarten the following year. There were dirt streets and those famous potholes on Maroon, which were all his puddle playgrounds. In the winter, Hailey was snowmobiling after returning from school. "Dad pulled us on sleds and drove us down the roads to Lake Meridian where we lived. We immediately learned to ski. When I was four and a half, I got lessons from Sherrie Vandervoort," she recalls, and even though she was behind in her downhill ability because all the other kids in the area were skiing before she could walk , Hailey quickly caught up. "At first, I was the only one with angry slippers," she describes the little rubber bands placed on the tips of beginner children's skis, "but it didn't take me long to get rid of them. »
With her working parents, Hailey had the freedom typical of Buttian's wild children. "We had carte blanche. We were biking on Peanut and jumping into the Slate where there was a plunge pool. We were just riding bikes and if I needed to use the phone I would go to the brick oven to use their phone. I had the typical wild CB childhood," she smiles.
Hailey remembers how awesome high school was for her here. "I graduated with 20 kids – 10 boys, 10 girls. Barron Farnell (see his profile in the August 18 issue) was my junior prom date. I didn't go out much because I had known these kids since 'they pissed their pants in kindergarten," she laughs. "We had a group of about five girls and we all skied together. After CB Academy left, CBCS started the Mountain Sports team in as an after school program. We would get early release one day a week and then ski all weekend, competitions, mostly Extreme and Big Mountain competitions. She graduated in 2010.
Hailey had won the National Junior Extremes in her senior year and decided to take a year off from skiing and competing. She worked at Butte and Co, teaching dance, the latter since her first year. It was during her time in Jackson Hole, after falls and stress fractures, that Hailey says she lost her passion for competition and decided to go to Humboldt State in California, majoring in dance. "They had a huge Latin dance scene in the community. You would go dancing in those old hotels," she said of her semester there, as she couldn't find a job. "Also," she notes, "it's hard to move anywhere else when you come from Crested Butte. Everything else pales in comparison.
Hailey transferred to Western State College (now Western Colorado University) where she earned her degree in Environmental Studies with a minor in English. "Environmental studies was depressing because you think you want to save the world, or at least make it a better place, but every time I left class I felt hopeless. We were talking about all these horrible things like climate change, but it wasn't very solution-oriented.
She met Carl Rickey in college and they decided to save up for a trip to Bali, then moved in together to Delray Beach, Florida, she says, "To try something new and go tropical and sweat a little." After a short relationship and too hot weather, Hailey returned to CB. She found out she was pregnant with daughter Rowan, who arrived in November 2016. Hailey worked at Rumors Coffee and Tea House throughout her pregnancy, as she had in high school and throughout l 'university. She had already obtained her real estate license. After Rowan was born, she continued her work as a barista and sold a few houses, but she admits, "I saw Crested Butte changing and I didn't feel like selling CB by selling houses."
Hailey started working for her father's landscaping company, and her stepmother, Kelly Dean, gave Hailey a few of her gardening clients to tend to. "They sold their business, then I joined a property manager and gained 30 extra gardens in the first year." She started her own business, Homegrown Gardens, and by her second year, Hailey had 70 gardens to tend. His third year in business has further increased his clientele and now includes lawns and irrigation in addition to gardens.
With all the work, Hailey took on a business partner, Emily Jones. They built a greenhouse to create hanging baskets for local customers. "We both do everything," she says, adding, "I thought it would be easier with a partner, but we've doubled the workload. We're maxed out with 100 clients, and we have a shortage of employees and everyone is exhausted because it's so much work. It never ends – we work seven days a week in May, June and part of July. Once our greenhouse is empty, we can take some time The greenhouse was exhausted before the snow melted," she laughs.
In its first year, they had planted 150 baskets as well as annuals and perennials. "Everything from seeds, and we filled our greenhouse. We had a humidity problem because at -20 degrees with a soggy greenhouse there is no way to dry it out without it getting too cold. This year we didn't do as many baskets, only about 70, so they had more air space and room to grow, so that was a lot better. She notes that they are the only local suppliers of hanging flower baskets, grown in the valley. She is grateful despite the work involved. "I'm surrounded by plants," she smiles.
In her free time, Hailey is an ultra-runner in long and difficult races: "It's what I do in my free time when I'm not working or raising children. I shop locally or go to Moab. We have a good community of riders in CB that is fun to be part of. She is doing the Grande Traverse, "I've been skiing a few times with a friend," she says, and plans to do the triple crown of running, cycling and skiing after the baby is born. "I met Josh McEwen in 2019 at a friend's wedding," she smiles, and they hit it off, "He came and hardly ever left." The couple bought a Gunnison home and are expecting a baby boy in January 2023.
"Right now, we can't think of any other place we'd rather be, and where are you going?" We bitch and bitch about Crested Butte, but what's the alternative? It's easy to complain," she says of the changes in town, "but when you step back, it's still pretty good. I've lived here all my life and there are still places I haven't explored yet here. I love Gunnison, it's nice to have a little separation between work and home. It's a beautiful drive and when it gets a little too crazy I can leave at the end of the day and head back on my dirt road to Cranor Hill where there are families and children. Rowan plays outside until nightfall with the neighbour's children. It reminds me a lot of my childhood in Meridian Lake, there are still pockets of that same vibe.