8 Southern California Motocross Tracks You Need to Check Out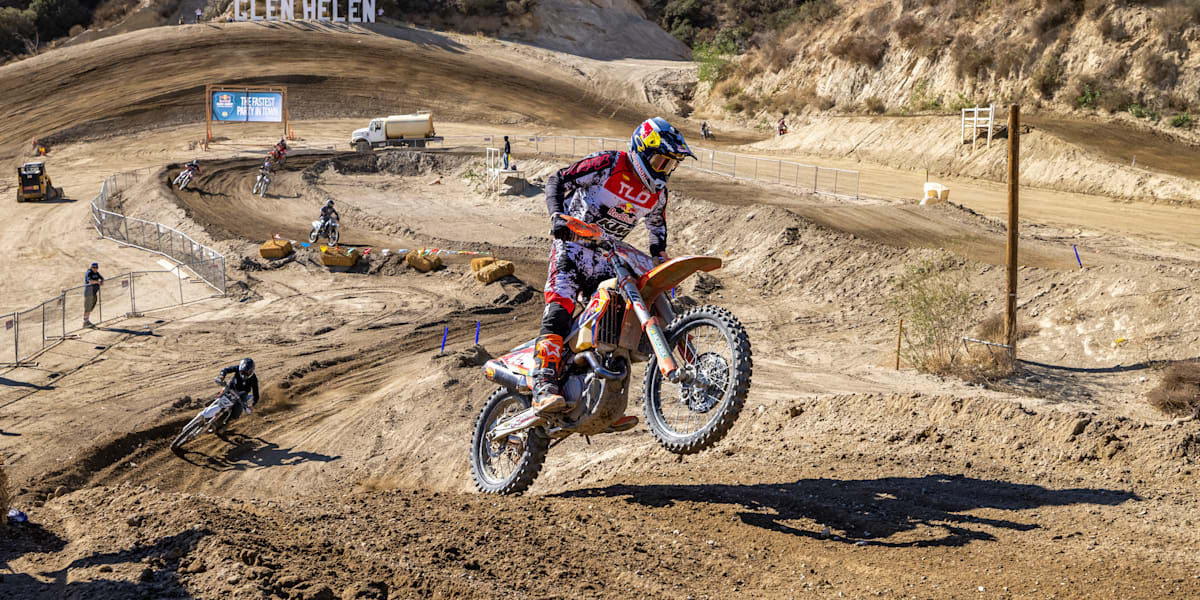 The motocross scene in SoCal is amazing. In addition to having great public terrain open to a wide range of OHVs, you can find plenty of private, groomed motocross tracks in Southern California. Among these is

Glen Helen Racecourse

one of the toughest tracks in America and the location of the newest Red Bull

Day in the Dirt Contest

. If you're new to the motocross scene, check out one of these motocross tracks where even beginners will feel safe training and gaining the confidence to tackle tougher obstacles and terrain.
Location: 18585 Verdemont Ranch Road, San Bernardino, CA
Cost: $30 per bike, $20 per peewee bike
Red Bull Day in the Dirt isn't the only competition held at Glen Helen Raceway. In fact, they organize races and events like

WADA Championships

and great prizes throughout the year. With three trails to choose from, you can find something for a range of skill levels. The National MX track is the main track and offers you gnarly berms, a gentle little sandy section and a range of big and small jumps, singles and doubles.
Younger and less experienced riders can take on the peewee track which has some nice table jumps and turns to practice control. For steeper sections and lots of loose dirt and hard snow, try the vintage trail. Combined, these tracks give you 5 miles to rip it up on your dirt bike or other OHV.
Location: 24510 168th St., California City, CA
Cost: $30 per rider, $20 per 50cc bike on main track, $15 for peewee track riders
Cal City MX Park

is a family motocross facility with a main track and a peewee track, making it ideal for dirt bike enthusiasts young and old. While the region's desert landscape doesn't offer much beauty, it does create epic natural terrain that allows you to prove yourself on a bike.
On the main track you will find steep hills for

look serious

, a rhythm section, fun berms and tables that keep things interesting. For added peace of mind for parents, the peewee track is completely surrounded by hay bales and has a single entry/exit point. You'll probably want to stick to practicing here in the cooler months, as the desert doesn't provide much shade.
03
Lake Elsinore Motorsports Park
Location: 20700 Cereal St., Lake Elsinore, CA
Cost: $30 per rider, $25 per rider with 50cc bike, $60 per AMA licensed supercross rider, $25 for military and first responders

When you get to the main track, you find yourself amongst some massive jumps, a few spread out sick tables and a rhythm section that will get your heart pumping. Bring the kids and let them practice their dirt-throwing skills on the peewee or pit bike tracks. Both have nice berms and curves for the little ones to tear through. The pit bike track is also ideal for mountain bikes.
04
Cahuilla Creek Motocross
Location: 50100 US Highway 371, Anza, CA
Whether you are a motocross pro like Red Bull sponsored

Ronnie Renner

or you're jumping on a mountain bike for the first time, you'll love how they use the natural terrain to create incredible obstacles and layouts to

Cahuilla Creek Motocross

. The main/pro track features elevation gains that you likely won't experience at any other MX park in SoCal. In fact, it might be useful to know at least some of the

essential modern motocross skills

before you tackle this one, but they say it's technical enough to challenge an expert but safe enough for a novice.
Check out the Vet Track for a relaxing ride perfect for riders of all skill levels. There is also a peewee track that takes less experienced runners through the canyons of Cahuilla Creek.
Location: 12799 California Highway 76, Pala, CA
Cost: $30 per rider for motocross and quads, $20 per rider for bikes up to 65cc, $40 per UTV rider, $65 per supercross rider
You've probably never felt dirt like the silty stuff found on the slopes at

Fox Tour

. This soil may take some getting used to, but once you've pulverized it, you'll want to keep coming back for more. Do you take young riders under the age of 15 with you to this motocross facility? The children's track is the ideal place for young riders to train in complete safety. This track features wide bowl action on the turns and plenty of safe jumps that make them feel like they're soaring in the sky.

Head to the vet track if you want a bit more of a challenge, as it offers a few smaller jumps and a decent layout with the perfect amount of obstacles. Those with more intermediate to expert riding skills can take on the main/professional track. On this track, you'll be thrilled to tackle the straights that lead to bigger and better jumps and more obstacles that enhance the thrill of the ride. When you can't get to the track, try

Dirt Bike Unchained

a mobile motocross game you can play from almost anywhere.
Location: 26217 Honolulu Road, Taft, CA
Maybe it's because there's only one main track or maybe it's just an occasional workout, but whatever the reason,

Honolulu Hills Racetrack

is both economical and a cool place to ride. It's a big track with a variety of obstacles and soft jumps like doubles and triples with miles of hard pack that lets you

speed up

.
If you were to look back the

history of motocross racing

, it's places like this that got people hooked on the sport. Keep in mind that you won't find shade here, like many other places to bike in Southern California, so if you're heading here, be prepared.
Location: 7010 E. Avenue T, Palmdale, CA
Cost: $30 per rider, $10 per peewee rider
The Los Angeles County Raceway Motocross Park, or

LACR-MX

, is a family-friendly place to ride with trails for all skill levels. Beginners can practice their shredding skills on the peewee track, while those with more experience can shred it on the vet or main track. Check out what this Red Bull article has to say if you're looking for the

best motocross bikes for beginners

.
Sand was used to create each of these impressive tracks, giving them a soft base that is fun to ride on. Each track is well maintained and frequently watered, which is highly appreciated by motocross pros and novices alike. With natural elevation changes that easily integrate with the terrain, you'll enjoy every jump, obstacle, and berm thrown your way.
Location: 1205 Burton Road, Perris, CA
Cost: $30 per rider, $25 for 50cc riders, military, first responders
Since 1958, dirt bike enthusiasts have been hitting the track at Perris Raceway, making it SoCal's oldest operating motocross park. It has three tracks to choose from, so you're sure to find one that suits your riding level and comfort zone. The peewee track is an ideal place to introduce your children to the

motocross world

. If you're comfortable enough in the seat of a bike, head to the vet track, where you can learn to feel more comfortable taking turns, jumps, and whoops.

On the main track, more experienced riders will love the thrill of jumps that send you flying high and plenty of turns that let you kick dirt as you speed down the track. Because it can get a little hot in SoCal, this place also offers night rides. The track is well lit, so you can enjoy a ride in the cool of the evening.
When you're looking for a sick place to ride where you can get some fresh air and learn some crazy skills in the sport of motocross, head to one of these great tracks. For times when you can't get around, check out

Red Bull Motorcycle Spy

which gives you a behind-the-scenes look at what's happening in the world of motocross.